Hotels on Disney World Resort Property
Lake Buena Vista, Florida
---
Welcome to our guide to hotels on Walt Disney World property ... where you'll find honest, concise hotel reviews, all discounts, a lowest rate guarantee, and no booking fees.
These hotels are located within the Walt Disney World Resort but are not owned by Disney.
Lake Buena Group Hotel Rates – 10 or more rooms
Other Disney World Hotels – Hotels on Disney World Property
Magic Kingdom, Epcot, Disney Hollywood MGM Studios, Disney's Animal Kingdom Theme Park, Disney's Blizzard Beach, Disney's Typhoon Lagoon, Disney Wide World of Sports Complex, Downtown Disney, Pleasure Island
Important information for pet owners:
These hotels do not allow pets. However, there are kennels located on Disney property. Pet fees for kennels are $9 per night per pet for Disney guests and $11 for others. Dog owners are required to walk puppies 3 times a day and grown dogs twice a day.
B Resort & Spa Lake Buena Vista

$$$$

1905 Hotel Plaza Blvd, Lake Buena Vista, FL 32830




More Photos




| | |
| --- | --- |
| Check In | 16 00 |
| Check Out | 11 00 |




Rated High Luxury, smoke-free, full-service hotel

On Disney World property

1.5 miles from Downtown Disney and House of Blues

17 floors, 394 rooms and suites

Heated outdoor swimming pool - exercise room

Restaurant - lounge - room service

Parking costs $16 per night

Not pet-friendly - no pets allowed.

- Aug 2014

Warning: This hotel charges a resort fee of $20 per night - includes Internet access.

Most Recent Guest Review

"Good location - disappointed that our room was in the motel section instead of the tower section - AC didn't work well at all; we bought a fan and were still too hot - most rooms had patio chairs, but ours didn't - there was a bug in the bed - the bar and pool bar weren't open - some restaurant workers weren't attentive.2011-05-01"

More

Best Western Lake Buena Vista Resort Inn

$$

2000 Hotel Plaza Blvd, I-4, Exit 68, Lake Buena Vista, FL 32830




More Photos




| | |
| --- | --- |
| Check In | 1500 |
| Check Out | 1100 |




Rated Average Upper-midscale, smoke-free, full-service hotel

On Disney World property

18 floors, 325 rooms - AAA 3 Diamonds

Free shuttle to Disney parks

Heated outdoor swimming pool - kiddie pool

Restaurant - lounge

Free Internet in room

Free parking

Not pet-friendly - no pets allowed.

- Dec 2014

Warning: This hotel charges a resort fee of $14 per night.

Most Recent Guest Review

"Good location - staff was friendly.2009-12-01"

More

Buena Vista Palace Hotel Lake Buena Vista

$$$$

1900 Buena Vista Drive, I-4, Exit 68, Lake Buena Vista, FL 32830




More Photos




| | |
| --- | --- |
| Check In | 16 00 |
| Check Out | 11 00 |




Rated Average Upscale, smoke-free, full-service hotel

In downtown Disney World

27 floors, 1014 rooms and suites

Free shuttle to Disney theme parks and 2 water parks

3 heated outdoor swimming pools - fitness center

3 restaurants - 2 lounges - room service

Not pet-friendly - no pets allowed.

- Apr 2014

Warning: This hotel charges a resort fee of $17 per night - includes parking and Internet access.

Most Recent Guest Review

"Close to Downtown Disney. Not a good hotel room for the price. A faulty fire alarm went off for 2 hours in the middle of the night. No apologies or explanation provided. Nice staff.2015-06-15"

More

DoubleTree Suites by Hilton Hotel Lake Buena Vista

$$$$

2305 Hotel Plaza Blvd, Lake Buena Vista, FL 32830




More Photos




| | |
| --- | --- |
| Check In | 1600 |
| Check Out | 1100 |




Rated Very High Upscale, smoke-free, all-suite, full-service hotel

On Disney World property

7 floors, 229 suites

Free shuttle to Disney theme parks

Outdoor swimming pool - exercise room

Restaurant - lounge - room service

Microwave and refrigerator in every suite

Internet access costs $10 per night for each device

Parking costs $15 per night

Not pet-friendly - no pets allowed.

- May 2015

Hilton Bonnet Creek Hotel Lake Buena Vista

$$

14100 Bonnet Creek Resort Lane, Lake Buena Vista, FL 32821




More Photos




| | |
| --- | --- |
| Check In | 16 00 |
| Check Out | 11 00 |




Rated Very High Upscale, smoke-free, full-service hotel

On Disney World property

Closest Orlando hotel to Walt Disney World

18 floors, 1001 rooms and suites - AAA 4 Diamonds

Free shuttle to Disney theme parks and Downtown Disney

Heated outdoor swimming pool - exercise room

12 restaurants and lounges

Parking costs $16 per night

Not pet-friendly - no pets allowed.

- Apr 2014

Warning: This hotel charges a resort fee of $25 per night - includes Internet access.

Most Recent Guest Review

"Front desk clerks were friendly and helpful - enjoyed my stay.2010-12-01"

More

Hilton Hotel Lake Buena Vista

$$$$

1751 Hotel Plaza Blvd, Lake Buena Vista, FL 32830




More Photos




| | |
| --- | --- |
| Check In | 16 00 |
| Check Out | 11 00 |




Rated High Upscale, smoke-free, full-service hotel

On Disney World property

10 floors, 787 rooms and suites

Heated outdoor swimming pool - exercise room

3 restaurants - lounge - room service

Parking costs $15 per night

Not pet-friendly - no pets allowed.

- Apr 2014

Warning: This hotel charges a resort fee of $22 per night - includes Internet access.

Most Recent Guest Review

"Convenient to the House of Blues. The free DVD kiosk was a great idea, but a better selection would've been nice. I liked this hotel very much and would probably return.2015-02-23"

More

Holiday Inn Walt Disney World Lake Buena Vista

$$

1805 Hotel Plaza Blvd, Lake Buena Vista, FL 32830




More Photos




| | |
| --- | --- |
| Check In | 16 00 |
| Check Out | 11 00 |




Rated Very High Upper-midscale, smoke-free, full-service hotel

Located on Disney World property

14 floors, 323 rooms

Free shuttle to Disney theme parks

Heated outdoor swimming pool - exercise room

Restaurant - lounge - room service

Free Internet in room

Parking costs $12 per night

Not pet-friendly - no pets allowed.

- Apr 2014 Most Recent Guest Review

"Great value. The hotel was clean. Good customer service.2015-05-28"

More

Waldorf Astoria Hotel Lake Buena Vista

$$$$$

14200 Bonnet Creek Resort Lane, Lake Buena Vista, FL 32831




More Photos




| | |
| --- | --- |
| Check In | 16 00 |
| Check Out | 11 00 |




Rated Very High Luxury, smoke-free, full-service resort

On Disney World property

Surrounded by Walt Disney World Resort

15 floors, 498 rooms and suites - AAA 4 Diamonds

Free shuttle to Disney Parks and attractions

Heated outdoor swimming pool - exercise room

2 restaurants - 2 lounges - 24-hour room service

Tiki bar

Full-service spa

Valet parking only - $24 per night

Not pet-friendly - no pets allowed.

- Apr 2014

Warning: This hotel charges a resort fee of $25 per night - includes Internet access.

Walt Disney World Dolphin Resort

$$$$$

1500 Epcot Resort Blvd, Lake Buena Vista, FL 32830




More Photos




| | |
| --- | --- |
| Check In | 1500 |
| Check Out | 1100 |




Rated High Upscale, smoke-free, full-service hotel

Located on Disney World property

Not owned by Walt Disney Company

A Sheraton Resort hotel

20 floors, 2265 rooms

Free shuttle to Disney theme parks

5 outdoor swimming pools - fitness center

17 restaurants - lounges - 24-hour room service

Full-service spa

Parking costs $15 per night

Not pet-friendly - no pets allowed.

- Apr 2014

Warning: This hotel charges a resort fee of $17 per night - includes Internet access.

Most Recent Guest Review

"Nice, clean hotel and pool areas.2015-05-05"

More




More Photos




| | |
| --- | --- |
| Check In | 1500 |
| Check Out | 1100 |




Upscale, smoke-free, full-service hotel

Located on Disney World property

Not owned by Walt Disney Company

A Westin Resort property

2 buildings - 12 and 14 floors, 756 rooms - AAA 4 Diamonds

Free shuttle to Disney theme parks

Heated outdoor swimming pool - fitness center

4 restaurants - 3 lounges - 24-hour room service

Parking costs $15 per night

Not pet-friendly - no pets allowed.

- Apr 2014

Warning: This hotel charges a resort fee of $17 per night - includes Internet access.

Most Recent Guest Review

"Reasonable rates - hotel was clean - staff was helpful and always smiling - I recommend.2010-12-01"

More

Wyndham Grand Orlando Resort Bonnet Creek

$$$

14651 Chelonia Parkway, Lake Buena Vista, FL 32830




More Photos




| | |
| --- | --- |
| Check In | 1600 |
| Check Out | 1100 |




Rated Very High Upper-midscale, smoke-free, full-service hotel

On Disney World property at Bonnet Creek

14 floors, 400 rooms and suites

Outdoor swimming pool

3 restaurants - lounge - 24-hour room service

Parking costs $16 per night

Pet-friendly hotel - allows pets up to 25 pounds, 1 pet per room - pets cannot be left alone in room - $50 per stay pet fee.

- Apr 2014

Warning: This hotel charges a resort fee of $18 per night - includes Internet access, Disney shuttle, and fitness center.

Wyndham Lake Buena Vista Resort

$$$

1850 Hotel Plaza Blvd, Lake Buena Vista, FL 32830




More Photos




| | |
| --- | --- |
| Check In | 1600 |
| Check Out | 1100 |




Rated Average Luxury, smoke-free, full-service hotel

Next to Downtown Disney - on Disney World property

9 floors, 626 rooms and suites

Heated outdoor swimming pool - outdoor pool

Exercise room

3 restaurants - lounge - room service

Valet parking only - $8 per night

Not pet-friendly - no pets allowed.

- Apr 2014

Warning: This hotel charges a resort fee of $16 per night - includes Internet access and Disney shuttle.

Most Recent Guest Review

"Nice property for a decent price - room was clean - exterior hallway was dark, dirty, and dingy - staff was helpful and courteous - huge pool area.2011-09-01"

More

Wyndham Vacation Resort Bonnet Creek

$$$$$

9560 Via Encinas Street, Lake Buena Vista, FL 32830




More Photos




| | |
| --- | --- |
| Check In | 16 00 |
| Check Out | 10 00 |




Rated High Upscale, smoke-free, full-service, lakefront resort

On Disney World property next to Epcot

6 buildings - 7, 9, 9, 14, 15, and 19 floors; 575 suites

Free shuttle to Disney theme parks

Shuttle runs to Downtown Disney area

5 heated outdoor swimming pools - 2 lazy rivers

Exercise room

3 restaurants - 2 lounges

Free Internet in room

Free parking

Not pet-friendly - no pets allowed.

- Apr 2014 Most Recent Guest Review

"Close to Disney - absolutely beautiful property - front desk was understaffed; we waited almost 30 minutes to check in - nice to have restaurants that delivered to the property - shuttle was great.2011-02-01"

More
Map of Lake Buena Vista Hotels
Other Hotels on Disney Property


Lake Buena Vista Info
Lake Buena Vista Hotels and Reviews
Lake Buena Vista Hotel Tips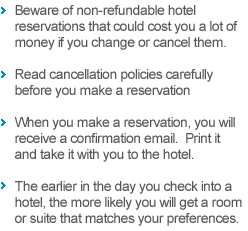 HotelGuides.com