Panama City Beach Hotels on Beach – Panama City Beach, Florida
---
Welcome to our guide to Panama City Beach hotels that are on the beach ... where you'll find honest, concise hotel reviews, all discounts, a lowest rate guarantee, and no booking fees.
Panama City Beach Hotels on Beach
Beachfront hotels, Pier Park, Shipwreck Island Park, Coconut Creek Family Fun Park
Best value hotels are listed first. These are good hotels that cost less than other good hotels. Based on guest reviews and nightly room rates.
Days Inn Panama City Beach

$

12818 Front Beach Road, Panama City Beach, FL 32407




More Photos




| | |
| --- | --- |
| Check In | 1600 |
| Check Out | 1100 |




Rated Average Cheap, oceanfront hotel

7 floors, 188 rooms

Outdoor swimming pool

Lounge

Free continental breakfast

Free Internet in room

Free parking

Not pet-friendly - no pets allowed.

- Mar 2015 Most Recent Guest Review

"Loved this hotel. Nice room, pool, beach, and staff. Stay longer than 3 nights; there's so much to do.2015-09-09"

More >

TripAdvisor Traveler Rating:


Based on 1474 reviews

Read Recent Reviews

Beachbreak by the Sea Hotel Panama City Beach

$$

15405 Front Beach Road, Panama City Beach, FL 32413




More Photos




| | |
| --- | --- |
| Check In | 1600 |
| Check Out | 1000 |




Rated Average Midscale, beachfront hotel

4 floors, 97 rooms and suites

Outdoor swimming pool

Restaurant

Restaurant open for lunch and dinner only

Note: Restaurant open during summer only

Microwave and refrigerator in every room

Free continental breakfast

Note: No Internet access

Free parking

Not pet-friendly - no pets allowed.

- Mar 2014 Most Recent Guest Review

"Beachside location - sofa bed was uncomfortable.2009-06-01"

More >

TripAdvisor Traveler Rating:


Based on 354 reviews

Read Recent Reviews

Majestic Beach Resort Panama City Beach

$$$

10901 Front Beach Road, Panama City Beach, FL 32407







| | |
| --- | --- |
| Check In | 1600 |
| Check Out | 8000 |




Rated Average Upper-midscale, smoke-free, full-service, oceanfront condos

24 floors, 260 condos

Heated indoor swimming pool - outdoor pool

Fitness center

Restaurant - lounge - room service

Free Internet in room

Free parking

Not pet-friendly - no pets allowed.

- Mar 2014

Warning: This hotel charges a resort fee of $45 per night and a cleaning fee of $120 or more per stay.

Most Recent Guest Review

"Room was beautiful and comfortable - staff was friendly and helpful - great stay.2008-05-01"

More >

TripAdvisor Traveler Rating:


Based on 456 reviews

Read Recent Reviews

Beachcomber by the Sea Hotel Panama City Beach

$$$

17101 Front Beach Road, Panama City Beach, FL 32413




More Photos




| | |
| --- | --- |
| Check In | 1600 |
| Check Out | 1000 |




Rated High Midscale, beachfront hotel

7 floors, 96 rooms and suites

Heated outdoor swimming pool

Microwave and refrigerator in every room

Free continental breakfast

Internet access costs $11 per night

Free parking

Not pet-friendly - no pets allowed.

- Mar 2014 Most Recent Guest Review

"Rates were fair - room was clean - other guests were loud - staff was friendly - good place to stay.2011-05-01"

More >

TripAdvisor Traveler Rating:


Based on 415 reviews

Read Recent Reviews

Long Beach Resort Panama City Beach

$$$

10511 Front Beach Road, Panama City Beach, FL 32407




More Photos




| | |
| --- | --- |
| Check In | 1600 |
| Check Out | 1000 |




Rated Average Upscale, smoke-free, oceanfront condos

Near Front Beach Road, shopping and restaurants

14 floors, 122 condos

Heated outdoor swimming pool open in summer

Restaurant

Restaurant open for lunch only

Note: No Internet access

Free parking

Not pet-friendly - no pets allowed.

- Mar 2014

Warning: This hotel charges a resort fee of $45 per night and a cleaning fee of $60 or more per stay.

Most Recent Guest Review

"The condo was fine, but the AC vent in the kitchen leaked, there was a leak above the bathtub, and there were bedbugs in the master bedroom.2015-07-18"

More >

TripAdvisor Traveler Rating:


Based on 210 reviews

Read Recent Reviews

Horizon South Beach Resort Panama City Beach

$$

17462 Front Beach Road, Panama City Beach, FL 32413




More Photos




| | |
| --- | --- |
| Check In | 1600 |
| Check Out | 1000 |




Rated Average Midscale, smoke-free townhomes near Pier Park

Short walk to beach

2 floors, 2-bedroom and 3-bedroom townhomes - no elevator

4 outdoor swimming pools - exercise room

Free Internet in room

Free parking

Not pet-friendly - no pets allowed.

- Mar 2014

Warning: This hotel charges a resort fee of $10 per night and a cleaning fee of $110 or more per stay.

TripAdvisor Traveler Rating:


Based on 26 reviews

Read Recent Reviews

Wyndham Vacation Resort Panama City Beach

$$$$

14700 Front Beach Road, Panama City Beach, FL 32413




More Photos




| | |
| --- | --- |
| Check In | 16 00 |
| Check Out | 10 00 |




Rated High Upscale, smoke-free, beachfront hotel

On west end of Panama City Beach

25 floors, 250 rooms

2 heated outdoor swimming pools - fitness center

Lounge

Free Internet in room

Free parking

Not pet-friendly - no pets allowed.

- Mar 2014 Most Recent Guest Review

"Liked the oceanfront location - great hotel.2011-10-01"

More >

TripAdvisor Traveler Rating:


Based on 378 reviews

Read Recent Reviews

Legacy by the Sea Hotel Panama City Beach

$$$

15325 Front Beach Road, Panama City Beach, FL 32413




More Photos




| | |
| --- | --- |
| Check In | 1600 |
| Check Out | 1000 |




Rated High Midscale, beachfront hotel

14 floors, 139 rooms

Heated outdoor swimming pool - exercise room

Free continental breakfast

Microwave and refrigerator in every room

Internet access costs $10 per night

Free parking

Not pet-friendly - no pets allowed.

- Mar 2014

TripAdvisor Traveler Rating:


Based on 624 reviews

Read Recent Reviews

Palazzo Condos Resortquest by WVR Panama City Beach

$$$$

17281 Front Beach Road, Panama City Beach, FL 32413




More Photos




| | |
| --- | --- |
| Check In | 1600 |
| Check Out | 1000 |




Rated Very High Upscale, smoke-free, beachfront condos

18 floors, 129 1-bedroom to 3-bedroom condos

Outdoor swimming pool - exercise room

Free Internet in room

Free parking

Not pet-friendly - no pets allowed.

- Jul 2015

Warning: This hotel charges a cleaning fee of $142 or more per stay.

TripAdvisor Traveler Rating:


Based on 54 reviews

Read Recent Reviews

Beachside Resort Panama City

$$

21905 Front Beach Road, Panama City Beach, FL 32413




More Photos




| | |
| --- | --- |
| Check In | 1600 |
| Check Out | 1100 |




Rated High Midscale, smoke-free, beachfront motel

7 floors, 144 rooms and suites

Heated outdoor swimming pool

Microwave and refrigerator in every room

Free Internet in room

Free parking

Not pet-friendly - no pets allowed.

- Mar 2014

TripAdvisor Traveler Rating:


Based on 310 reviews

Read Recent Reviews

Sugar Sands Inn & Suites Panama City Beach

$$$$

20723 Front Beach Road, Panama City Beach, FL 32413




More Photos




| | |
| --- | --- |
| Check In | 1400 |
| Check Out | 1000 |




Rated Average Upper-midscale, smoke-free, all-suite, beachfront hotel

2 towers - 5 floors, 84 studio to 2-bedroom suites

Heated outdoor swimming pool

Kitchen in every suite

Free Internet in room

Free parking

Not pet-friendly - no pets allowed.

- Mar 2014

Warning: You must be 25 or older to reserve a room at this hotel.

Most Recent Guest Review

"Located on the beach - hotel was clean - room had a full kitchen, and a view of the beach from the patio - had an elevator - needed better parking - great place to stay.2009-12-01"

More >

TripAdvisor Traveler Rating:


Based on 268 reviews

Read Recent Reviews

Grand Panama Beach Resort Panama City Beach

$$$

11800 Front Beach Road, Panama City Beach, FL 32407




More Photos




| | |
| --- | --- |
| Check In | 1800 |
| Check Out | 0800 |




Rated High Midscale, smoke-free, full-service, beachfront condos

On the Gulf of Mexico

22 floors, 135 studio to 4-bedroom condos

2 outdoor swimming pools - exercise room

2 restaurants - lounge

Free Internet in room

Free parking

Not pet-friendly - no pets allowed.

- Aug 2015

Warning: This hotel charges a cleaning fee of $150 or more per stay.

TripAdvisor Traveler Rating:


Based on 210 reviews

Read Recent Reviews

Celedon Beach Resort City Beach

$$$$

17757 Front Beach Road, Panama City Beach, FL 32413




More Photos




| | |
| --- | --- |
| Check In | 1600 |
| Check Out | 1000 |




Rated High Upscale, smoke-free, beachfront condos

22 floors, 46 1-bedroom to 3-bedroom condos

Heated indoor swimming pool - outdoor pool - exercise room

Free Internet in room

Free parking

Not pet-friendly - no pets allowed.

- May 2014

Warning: You must be 25 or older to reserve a room at this hotel.

TripAdvisor Traveler Rating:


Based on 152 reviews

Read Recent Reviews

Emerald Isle Hotel by Sterling Resorts Panama City Beach

$$$$

17545 Front Beach Road, Panama City Beach, FL 32413




More Photos




| | |
| --- | --- |
| Check In | 1500 |
| Check Out | 1000 |




Rated Very High Midscale, smoke-free, beachfront, condo hotel

Overlooks Gulf of Mexico - west end of Panama City Beach

23 floors, 199 2-bedroom condos

Note: Guests check in at 15900 Front Beach Road, Suite 102, Panama City Beach, FL, 9 AM

Not pet-friendly - no pets allowed.

- Mar 2014

Warning: You must be 25 or older to reserve a room at this hotel.

TripAdvisor Traveler Rating:


Based on 184 reviews

Read Recent Reviews

Holiday Inn Club Vacations Panama City Beach Resort

$$$$

17001 Front Beach Road, Panama City Beach, FL 32413




More Photos




| | |
| --- | --- |
| Check In | 16 00 |
| Check Out | 10 00 |




Rated Very High Midscale, smoke-free, oceanfront condos

4 floors, 37 1-bedroom and 2-bedroom condos

Heated outdoor swimming pool - exercise room

Free Internet in room

Free parking

Not pet-friendly - no pets allowed.

- Mar 2014 Most Recent Guest Review

"Right on the beach; walk to shopping and restaurants - condo was clean - great getaway.2011-04-01"

More >

TripAdvisor Traveler Rating:


Based on 115 reviews

Read Recent Reviews

Splash Hotel by Sterling Resorts Panama City Beach

$$$

17739 Front Beach Road, Panama City Beach, FL 32413




More Photos




| | |
| --- | --- |
| Check In | 1500 |
| Check Out | 1000 |




Rated Average Upper-midscale, smoke-free condos

Overlooks Gulf of Mexico

At west end of Panama City Beach

2 towers - 21 floors; 200 1- to 3-bedroom condos

Outdoor swimming pool - exercise room

Lounge

Parking costs $10 per night

Not pet-friendly - no pets allowed.

- Mar 2014

Warning: You must be 25 or older to reserve a room at this hotel.

Warning: This hotel charges a resort fee of $32 per night - includes Internet access.

TripAdvisor Traveler Rating:


Based on 587 reviews

Read Recent Reviews

Sterling Reef Hotel by Sterling Resorts Panama City Beach

$$$$

12011 Front Beach Road, Panama City Beach, FL 32407




More Photos




| | |
| --- | --- |
| Check In | 1500 |
| Check Out | 1000 |




Rated Average Midscale, smoke-free, beachfront condos

Next to Shipwreck Island Waterpark

Also near Bay County Fishing Pier

22 floors, 90 2-bedroom and 3-bedroom condos

Outdoor swimming pool with waterfall - exercise room

Free Internet in room

Free parking

Not pet-friendly - no pets allowed.

- Mar 2014

Warning: You must be 25 or older to reserve a room at this hotel.

TripAdvisor Traveler Rating:


Based on 74 reviews

Read Recent Reviews

Sterling Breeze Condos by Sterling Resorts PCB

$$$

16701 Front Beach Road, Panama City Beach, FL 32413




More Photos




| | |
| --- | --- |
| Check In | 1500 |
| Check Out | 1000 |




Rated Average Midscale, smoke-free, oceanfront condos

23 floors, 145 1-bedroom to 3-bedroom condos

Heated outdoor swimming pool - exercise room

Free parking

Not pet-friendly - no pets allowed.

- Mar 2014

Warning: You must be 25 or older to reserve a room at this hotel.

Warning: This hotel charges a resort fee of 8% per night - includes Internet access.

TripAdvisor Traveler Rating:


Based on 91 reviews

Read Recent Reviews

Sunrise Beach Resort by Resortquest Panama City Beach

$$$$

14825 Front Beach Road, Panama City Beach, FL 32413




More Photos




| | |
| --- | --- |
| Check In | 1600 |
| Check Out | 1000 |




Rated Very High Upscale, smoke-free, oceanfront, condo hotel

Near Pier Park and Frank Brown Recreation Center

24 floors, 216 1-bedroom to 3-bedroom condos

Heated outdoor swimming pool - exercise room

Free Internet in room

Free parking

Not pet-friendly - no pets allowed.

- Mar 2014

Warning: You must be 25 or older to reserve a room at this hotel.

Warning: This hotel charges a cleaning fee of $142 or more per stay.

TripAdvisor Traveler Rating:


Based on 202 reviews

Read Recent Reviews

Ocean Villa Condos Panama City Beach

$$$$

10625 Front Beach Road, Panama City Beach, FL 32407




More Photos




| | |
| --- | --- |
| Check In | 1500 |
| Check Out | 1000 |




Rated High Upscale, smoke-free, beachfront condos

Directly on Gulf of Mexico

Two bedrooms

Indoor swimming pool - outdoor pool - exercise room

Kitchen in every condo

Free Internet in room

Free parking

Not pet-friendly - no pets allowed.

- Jul 2014

TripAdvisor Traveler Rating:


Based on 62 reviews

Read Recent Reviews

Sunbird Beach Resort Panama City Beach

$

9850 South Thomas Drive, Panama City Beach, FL 32408




More Photos




| | |
| --- | --- |
| Check In | 160000 |
| Check Out | 100000 |




Rated Very Low – Not Recommended Cheap condo hotel near the beach

2 buildings - 12 floors, 1- bedroom condos

3 outdoor swimming pools - exercise room

Kitchen in every condo

Free Internet in room

Free parking

Not pet-friendly - no pets allowed.

- Feb 2015

Warning: This hotel charges a cleaning fee of $140 or more per stay - includes damage waiver.

TripAdvisor Traveler Rating:


Based on 49 reviews

Read Recent Reviews

Origin Beach Resort Panama City Beach

$$

15100 Front Beach Road, Panama City Beach, FL 32413




More Photos




| | |
| --- | --- |
| Check In | 1800 |
| Check Out | 0800 |




Rated Low – Not Recommended Midscale, smoke-free condos across street from beach

17 floors, 329 studio to 3-bedroom condos

Heated outdoor swimming pool - exercise room

Restaurant

Restaurant open for lunch and dinner only

Free Internet in room

Free parking

Not pet-friendly - no pets allowed.

- Mar 2014

Warning: This hotel charges a resort fee of $31 per night and a cleaning fee of $108 or more per stay.

Most Recent Guest Review

"Good location - disappointed that the pool was closed.2010-05-01"

More >

TripAdvisor Traveler Rating:


Based on 488 reviews

Read Recent Reviews







| | |
| --- | --- |
| Check In | 1600 |
| Check Out | 1000 |




Luxury, smoke-free, beachfront condos 21 floors, 276 condos
Indoor water park - outdoor swimming pool - exercise room
Tiki bar
Kitchen in every condo
Not pet-friendly - no pets allowed. - Sep 2015
Warning: Warning: This hotel charges a resort fee of $27 per night - includes parking and Internet access.
- Sep 2015



Fontainebleau Terrace Hotel Panama City Beach

$$$

14401 Front Beach Road, Panama City Beach, FL 32413




More Photos




| | |
| --- | --- |
| Check In | 1600 |
| Check Out | 1000 |




Rated Low – Not Recommended Midscale, oceanfront condos

4 floors, 100 studio condos

Indoor swimming pool

Kitchen in every condo

Note: No Internet in room

Parking costs $20 per night

Not pet-friendly - no pets allowed.

- Sep 2014

TripAdvisor Traveler Rating:


Based on 78 reviews

Read Recent Reviews

Shores of Panama Resort Panama City Beach

$$

9900 South Thomas Drive, Panama City Beach, FL 32408







| | |
| --- | --- |
| Check In | 16 00 |
| Check Out | 10 00 |




Rated Very Low – Not Recommended Midscale, smoke-free, beachfront condos

23 floors, 213 studio to 3-bedroom condos

Indoor swimming pool - outdoor pool - exercise room

Kitchen in every condo

Not pet-friendly - no pets allowed.

- Feb 2015

Warning: This hotel charges a resort fee of $26-32 per night (depending on size of condo) - includes parking and Internet access.

Warning: This hotel charges a cleaning fee of $90 or more per stay.

TripAdvisor Traveler Rating:


Based on 435 reviews

Read Recent Reviews







| | |
| --- | --- |
| Check In | 1500 |
| Check Out | 1000 |




Upscale, smoke-free, beachfront condo hotel West end of Panama City Beach
25 floors, 260 1-bedroom to 3-bedroom condos
Heated outdoor swimming pool open all year
Free Internet in room
Free parking
Not pet-friendly - no pets allowed. - Mar 2014









| | |
| --- | --- |
| Check In | 1600 |
| Check Out | 1000 |




Luxury, smoke-free, beachfront condos 23 floors, 213 condos
Indoor swimming pool - outdoor pool - exercise room
Kitchen in every condo
Not pet-friendly - no pets allowed. - Sep 2015
Warning: Warning: This hotel charges a cleaning fee of $130 or more per stay.
Warning: This hotel charges a resort fee of $27 per night - includes parking and Internet access.
- Sep 2015


Map of Panama City Beach Hotels
Beachfront, Pier Park


Panama City Beach Info
Pet-Friendly Panama City Beach Hotels
Panama City Beach Group Hotel Rates
Panama City Beach Hotels and Reviews
Panama City Beach Hotel Tips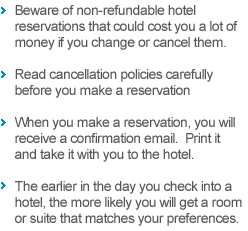 HotelGuides.com