Daytona Beach Oceanfront Hotels
Daytona Beach, Florida
---
Welcome to our Daytona Beach Oceanfront hotels guide ... where you'll find honest, concise hotel reviews, all discounts, a lowest rate guarantee, and no booking fees.
Daytona is best known for its wide sandy beaches and the Daytona International Speedway. Every February this track hosts NASCAR's Daytona 500 stock car race.
Daytona Beach Oceanfront Hotels
Daytona Bike Week, Boardwalk, Ocean Center, Main Street Pier, Atlantic Avenue, FLA1A, Water Park and Fun Center.
These hotels are ordered from north (Ormond Beach) to south (Daytona Beach Shores) along Florida's A1A coastal highway.
Daytona Beach Resort & Conference Center

$$$

2700 North Atlantic Avenue, Daytona Beach, FL 32118




More Photos




| | |
| --- | --- |
| Check In | 16 00 |
| Check Out | 11 00 |




Rated High Upper-midscale, smoke-free, full-service condos

On the beach near Bellair Plaza

14 floors, 322 studio to 1-bedroom condos

Heated indoor swimming pool - outdoor pool

Fitness center

Restaurant - lounge - room service

Full-service spa

Not pet-friendly - no pets allowed.

- Mar 2015

Warning: This hotel charges a resort fee of $17 per night - includes parking and Internet access.

Warning: This hotel overbooked and did not honor a confirmed reservation. - Jan 2015

La Playa Resort & Suites Daytona Beach

$$$

2500 North Atlantic Avenue, Daytona Beach, FL 32118




More Photos




| | |
| --- | --- |
| Check In | 16 00 |
| Check Out | 11 00 |




Rated Low – Not Recommended Midscale, oceanfront hotel

10 floors, 238 rooms and suites

AAA 3 Diamonds, Forbes 2 Stars

Outdoor swimming pool open all year

Restaurant - tiki bar

Restaurant open for breakfast only

Microwave and refrigerator in every room

Pet-friendly hotel - allows dogs only - $15 per night pet fee.

- Jan 2014

Warning: This hotel charges a resort fee of $11 per night - includes parking and Internet access.

Most Recent Guest Review

"Great atmosphere, but the hotel decor was awful and needed updating. The room was clean, but the linens were old and the towels felt like sandpaper. Won't be back.2015-05-12"

More

Grand Seas Resort Daytona Beach

$$$

2424 North Atlantic Avenue, Daytona Beach, FL 32118




More Photos




| | |
| --- | --- |
| Check In | 16 00 |
| Check Out | 11 00 |




Rated Very Low – Not Recommended Upper-midscale, smoke-free, full-service condos

5 floors, 169 studio to 2-bedroom condos

Heated indoor swimming pool - 2 outdoor pools

Exercise room

Restaurant - lounge - room service

Not pet-friendly - no pets allowed.

- Jan 2014

Warning: This hotel charges a resort fee of $5 per night - includes parking and Internet access.

Hampton Inn Daytona Beach

$$$

1024 North Atlantic Avenue, Daytona Beach, FL 32118




More Photos




| | |
| --- | --- |
| Check In | 16 00 |
| Check Out | 11 00 |




Rated Very High Midscale, smoke-free, oceanfront hotel

8 floors, 92 suites

Heated outdoor swimming pool - exercise room

Free hot breakfast buffet

Free Internet in room

Free parking

Not pet-friendly - no pets allowed.

- Jan 2014

Sea Shells Beach Club Resort Daytona Beach

$

1014 North Atlantic Avenue, Daytona Beach, FL 32118




More Photos




| | |
| --- | --- |
| Check In | 1600 |
| Check Out | 1000 |




Rated Very High Midscale, smoke-free, oceanfront hotel

4 floors, 39 rooms and suites

Heated outdoor swimming pool open all year

Microwave and refrigerator in every room

Free continental breakfast

Free Internet in room

Free parking

Not pet-friendly - no pets allowed.

- Jan 2014

Holiday Inn Hotel & Suites Daytona Beach

$$$

930 North Atlantic Avenue, Daytona Beach, FL 32118




More Photos




| | |
| --- | --- |
| Check In | 16 00 |
| Check Out | 11 00 |




Rated Very High Upper-midscale, smoke-free, full-service hotel

6 floors, 148 rooms and suites

Outdoor swimming pool open all year

Exercise room

2 restaurants - lounge - room service

Free Internet in room

Free parking

Not pet-friendly - no pets allowed.

- Jan 2014 Most Recent Guest Review

"Room was clean - staff was friendly.2008-06-01"

More

La Quinta Inn & Suites Daytona Beach

$$

816 North Atlantic Avenue, Daytona Beach, FL 32118




More Photos




| | |
| --- | --- |
| Check In | 15 00 |
| Check Out | 11 00 |




Rated High Midscale, smoke-free, oceanfront motel

3 floors, 80 rooms and suites - elevator

AAA 2 Diamonds

Outdoor swimming pool

Microwave and refrigerator in every room

Free continental breakfast

Free Internet in room

Free parking

Pet-friendly hotel - allows pets up to 50 pounds - no pet fee.

- Jan 2014 Most Recent Guest Review

"Good location for fun in Daytona. The motel room was clean and nice. Unfortunately, non-guests used the parking lot.2015-05-30"

More

Super 8 Hotel Oceanfront Daytona Beach

$

700 North Atlantic Avenue, Daytona Beach, FL 32118




More Photos




| | |
| --- | --- |
| Check In | 1500 |
| Check Out | 1100 |




Rated Average Midscale, smoke-free, oceanfront hotel

3 floors, 80 rooms - elevator

Heated outdoor swimming pool

Microwave and refrigerator in every room

Free continental breakfast

Free Internet in room

Free parking

Not pet-friendly - no pets allowed.

- Jan 2014 Most Recent Guest Review

"A good deal. The hotel room was nice and clean, and the staff was friendly and helpful.2015-06-11"

More

Plaza Ocean Club Hotel Daytona Beach

$$

640 North Atlantic Avenue, Daytona Beach, FL 32118




More Photos




| | |
| --- | --- |
| Check In | 16 00 |
| Check Out | 11 00 |




Rated Low – Not Recommended Upper-midscale, smoke-free, full-service hotel

Oceanfront hotel 3 blocks from Ocean Walk Shoppes

11 floors, 206 rooms - AAA 3 Diamonds

Heated outdoor swimming pool open in summer

Exercise room

Restaurant - lounge

Microwave and refrigerator in every room

Pet-friendly hotel - allows dogs up to 25 pounds only - $20 per night pet fee.

- Jan 2014

Warning: This hotel charges a resort fee of $13 per night - includes parking and Internet access.

Most Recent Guest Review

"Not worth the price. My room door was open when I arrived. The toilet didn't flush, so we had to pour water in the tank to get it to flush each time it was used. The problem wasn't fixed during my stay. A hotel clerk called me at 10:45 PM and told me I needed to move my car because it was about a foot over the line. There was only one check-in clerk. The elevators were small, so there was often a wait to use them. I had to wait 3 times before I was able to get on an elevator with the luggage cart to go check out. Not enough parking in general; I had to park in an overflow lot. Don't recommend.2015-06-25"

More

Plaza Resort & Spa Daytona Beach

$$$$

600 North Atlantic Avenue, Daytona Beach, FL 32118




More Photos




| | |
| --- | --- |
| Check In | 16 00 |
| Check Out | 11 00 |




Rated High Upscale, smoke-free, full-service, oceanfront hotel

14 floors, 342 rooms and suites

Outdoor swimming pool open all year - exercise room

Restaurant - lounge - room service

Full-service spa

Microwave and refrigerator in every room

Not pet-friendly - no pets allowed.

- Feb 2015

Warning: This hotel charges a resort fee of $20 per night - includes parking and Internet access.

Most Recent Guest Review

"The hotel room was smaller than I expected, and the glass patio door was duct taped. The elevators were slow. Considering the price I paid, I wasn't happy.2015-07-21"

More

Daytona Beach Regency Hotel

$$$$

400 North Atlantic Avenue, Daytona Beach, FL 32118




More Photos




| | |
| --- | --- |
| Check In | 16 00 |
| Check Out | 10 00 |




Rated High Upscale, smoke-free, all-suite, oceanfront hotel

11 floors, 87 suites

Heated indoor swimming pool - outdoor pool

Exercise room

Lounge - tiki bar

Kitchen in every suite

Not pet-friendly - no pets allowed.

- Jan 2014

Warning: This hotel charges a resort fee of $10 per night - includes parking and Internet access.

Most Recent Guest Review

"Room was large - we weren't able to get in our room until 4 PM - no sugar for coffee - I was disappointed.2011-06-01"

More

Wyndham Ocean Walk Resort Daytona Beach

$$$

300 North Atlantic Avenue, Daytona Beach, FL 32118




More Photos




| | |
| --- | --- |
| Check In | 16 00 |
| Check Out | 10 00 |




Rated Average Upscale, smoke-free, oceanfront condos

19 and 25 floors, 710 1-bedroom to 3-bedroom condos

2 nights minimum stay required

2 heated indoor swimming pools - outdoor pool

Fitness center

Tiki bar - lounge

Note: No Internet access

Free parking

Not pet-friendly - no pets allowed.

- Jan 2014 Most Recent Guest Review

"No soap or shampoo provided - shower didn't drain well - terrible service - long wait for the elevator - had to park in garage across the street - don't recommend.2009-07-01"

More

Hilton Oceanfront Resort Daytona Beach

$$$

100 North Atlantic Avenue, Daytona Beach, FL 32118




More Photos




| | |
| --- | --- |
| Check In | 16 00 |
| Check Out | 11 00 |




Rated Average Upscale, smoke-free, full-service, oceanfront hotel

16 floors, 774 rooms and suites

Heated outdoor swimming pool open all year

Fitness center

Restaurant - lounge - room service

Full-service spa

Free Internet in room

Parking costs $13 per night

Pet-friendly hotel - $50 per stay pet fee.

- Jan 2014

Warning: This hotel charges a resort fee of $11 per night - includes fitness center access.

Most Recent Guest Review

"Good location - room didn't have a nice view - slow valet service.2010-11-01"

More

Roomba Inn & Suites Daytona Beach Shores

$

133 South Ocean Avenue, Daytona Beach Shores, FL 32118




More Photos




| | |
| --- | --- |
| Check In | 1500 |
| Check Out | 1100 |




Rated High Midscale, smoke-free motel near beach and boardwalk 2 floors, 76 rooms and suites - no elevator
Outdoor swimming pool
Microwave and refrigerator in every room
Free continental breakfast
Free Internet in room
Free parking - limited to 1 car per room
Not pet-friendly - no pets allowed. - Jan 2015

Most Recent Guest Review

"Right on the beach; walk to everything - good rates - curtains had mold on them - breakfast was a danish and coffee.2009-07-01"

More





Daytona Inn Beach Resort

$$

219 South Atlantic Avenue, Daytona Beach, FL 32118




More Photos




| | |
| --- | --- |
| Check In | 1500 |
| Check Out | 1100 |




Rated Low – Not Recommended Midscale, oceanfront motel

4 floors, 75 rooms and suites

Heated outdoor swimming pool open all year

Microwave and refrigerator in every room

Pet-friendly hotel - allows pets up to 20 pounds, 2 pets per room - $35 per stay fee for each pet.

- Jan 2014

Warning: This hotel charges a resort fee of $6 per night - includes parking and Internet access.

Harbour Beach Resort Daytona Beach

$$$

701 South Atlantic Avenue, Daytona Beach, FL 32118




More Photos




| | |
| --- | --- |
| Check In | 16 00 |
| Check Out | 10 00 |




Rated Low – Not Recommended Midscale, smoke-free, oceanfront condos

6 miles east of Daytona Beach Airport

8 floors, 150 1-bedroom condos

Heated outdoor swimming pool open all year

Exercise room

Free Internet in room

Free parking

Not pet-friendly - no pets allowed.

- Jan 2014

Warning: This hotel overbooked and did not honor a confirmed reservation. - Mar 2015

Most Recent Guest Review

"Older hotel, but it met our needs. We weren't in the room much. Liked the kitchen, and the fact that it was stocked with dishes and cookware. An OK stay.2015-04-28"

More

Rodeway Inn on the beach Daytona Beach

$

1503 South Atlantic, Daytona Beach, FL 32118




More Photos




| | |
| --- | --- |
| Check In | 15 00 |
| Check Out | 11 00 |




Rated Low – Not Recommended Cheap, oceanfront motel

2 floors, 28 rooms - no elevator

Outdoor swimming pool

Microwave and refrigerator in every room

Free continental breakfast

Free Internet in room

Free parking

Pet-friendly hotel - allows pets up to 25 pounds, 2 pets per room - $20 per night fee for each pet.

- Jan 2014 Most Recent Guest Review

"Nice location. Loved the pool. We had a great time at this motel.2015-07-16"

More

Holiday Inn Oceanfront Resort Daytona Beach

$$

1615 South Atlantic Avenue Oceanfront, Daytona Beach, FL 32118




More Photos




| | |
| --- | --- |
| Check In | 1600 |
| Check Out | 1100 |




Rated Very High Upper-midscale, smoke-free, full-service hotel

7 floors, 206 rooms and suites

Outdoor swimming pool - exercise room

Restaurant - lounge - room service

Microwave and refrigerator in every room

Not pet-friendly - no pets allowed.

- Jan 2014

Warning: This hotel charges a resort fee of $7 per night - includes parking and Internet access.

Most Recent Guest Review

"Beachfront location for a great price - room was older, but had a fridge.2009-02-01"

More
Map of Daytona Beach Hotels
Oceanfront, Boardwalk


Daytona Beach Info
Pet-Friendly Daytona Beach Hotels
Daytona Hotels and Reviews
Hotels near
Nearby Attractions



Daytona Lagoon Water Park and Fun Center
0.6 mile south


Ocean Center
0.7 mile south


Peabody Auditorium
0.7 mile south


Bethune-Cookman University
3 miles SW


Bethune Performing Arts Center
3 miles SW


ERAU - Embry-Riddle Aeronautical University Daytona
4 miles SW


Daytona Beach Airport - DAB
5 miles SW


Hotels near Daytona Speedway
5 miles SW


Municipal Stadium
8 miles SW


Flagler Auditorium
21 miles NW


Stetson University
23 miles SW


Hotel Tips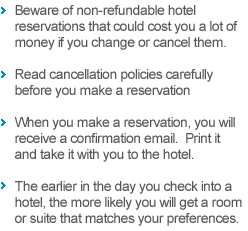 Hotels near
Nearby Cities



Daytona Beach FL Hotels
3 miles SW


Ormond Beach FL Hotels
5 miles NW


South Daytona FL Hotels
5 miles south


Daytona Beach Shores FL Hotels
6 miles SE


Ormond-by-the-Sea FL Hotels
9 miles NW


Port Orange FL Hotels
9 miles south


Ponce Inlet FL Hotels
9 miles SE


New Smyrna Beach FL Hotels
16 miles south


Flagler Beach FL Hotels
19 miles NW


Edgewater FL Hotels
20 miles south


HotelGuides.com