– Rates shown below are averages. Use Search above to see rates for your dates.

3.8 miles

Canadas Best Value Inn Richmond Hill


13100 Yonge Street, Richmond Hill, ON L4E 1A6


3.8 miles to King City


Enter Dates







| | |
| --- | --- |
| Check In | 15 00 |
| Check Out | 11 00 |




Rated Average

Midscale, smoke-free motel
11.5 miles from Canada's Wonderland
No swimming pool
Free continental breakfast
Free WiFi
Free parking - truck parking

Not pet friendly - no pets allowed. - Jan 2020


Most Recent HotelGuides Reviews Read >

TripAdvisor Traveler Rating:




Based on 36 reviews

Read Recent Reviews

5 miles

Travelodge Richmond Hill


10711 Yonge Street, Richmond Hill, ON L4C 3E1


5 miles to King City


Enter Dates







| | |
| --- | --- |
| Check In | 1500 |
| Check Out | 1100 |




Rated Average

Cheap, smoke-free hotel
Near Richmond Hill Centre for Performing Arts
7.5 miles from Canadas Wonderland
No swimming pool
Free continental breakfast
Free WiFi
Free parking

Pet friendly hotel More >

Most Recent HotelGuides Reviews Read >

TripAdvisor Traveler Rating:




Based on 397 reviews

Read Recent Reviews

7 miles

Novotel Hotel Vaughan


200 Bass Pro Mills Drive, Vaughan, ON L4K 0B9


7 miles to King City


Enter Dates







| | |
| --- | --- |
| Check In | 1500 |
| Check Out | 1200 |




Rated High

Upscale, smoke-free, full-service hotel
Near Canadas Wonderland
Heated indoor swimming pool - exercise room
Free WiFi
Free parking

Not pet friendly - no pets allowed. - Dec 2016


Most Recent HotelGuides Reviews Read >

TripAdvisor Traveler Rating:




Based on 612 reviews

Read Recent Reviews

8 miles

Microtel Inn & Suites by Wyndham Aurora


180 Goulding Avenue, Aurora, ON L4G 0R1


8 miles to King City


Enter Dates







| | |
| --- | --- |
| Check In | 1500 |
| Check Out | 1100 |




Rated High

Cheap, smoke-free hotel
6 miles from Metra Station
Heated indoor swimming pool
24-hour exercise room
Free hot breakfast buffet
Free WiFi
Free parking

Pet friendly hotel More >

TripAdvisor Traveler Rating:




Based on 39 reviews

Read Recent Reviews

8 miles

Holiday Inn Express & Suites Aurora


205 Eric T Smith Way, Aurora, ON L4G 0Z6


8 miles to King City


Enter Dates







| | |
| --- | --- |
| Check In | 16 00 |
| Check Out | 11 00 |




Rated Very High

Upper-midscale, smoke-free hotel
8 miles from Upper Canada Mall
Heated indoor swimming pool - exercise room
Free hot breakfast buffet
Free WiFi
Free parking

Not pet friendly - no pets allowed. - Mar 2020


TripAdvisor Traveler Rating:




Based on 7 reviews

Read Recent Reviews

9 miles

SpringHill Suites by Marriott Vaughan


612 Applewood Cresent, Vaughan, ON L4K 4B4


9 miles to King City


Enter Dates







| | |
| --- | --- |
| Check In | 1600 |
| Check Out | 1200 |




Rated Very High

Upscale, smoke-free, all-suite hotel
Near Vaughan Mills Mall
4 miles south of Canadas Wonderland
Heated indoor swimming pool - exercise room
Free hot breakfast buffet
Free WiFi
Free parking

Not pet friendly - no pets allowed. - Dec 2016


Most Recent HotelGuides Reviews Read >

TripAdvisor Traveler Rating:




Based on 561 reviews

Read Recent Reviews

9 miles

Homewood Suites by Hilton Vaughan


618 Applewood Crescent, Vaughan, ON L4K 4B4


9 miles to King City


Enter Dates







| | |
| --- | --- |
| Check In | 15 00 |
| Check Out | 12 00 |




Rated Very High

Upscale, smoke-free, all-suite, extended-stay hotel
Near Vaughan Mills Mall - 4 miles from Canadas Wonderland
Heated indoor swimming pool - exercise room
Kitchen in every suite
Free hot breakfast buffet
Free WiFi
Free parking - truck parking

Not pet friendly - no pets allowed. - Jul 2015


Most Recent HotelGuides Reviews Read >

TripAdvisor Traveler Rating:




Based on 928 reviews

Read Recent Reviews

9 miles

Best Western Voyageur Place Hotel Newmarket


17565 Yonge Street, Newmarket, ON L3Y 5H6


9 miles to King City


Enter Dates







| | |
| --- | --- |
| Check In | 1500 |
| Check Out | 1100 |




Rated High

Upper-midscale, smoke-free, full-service hotel-motel
Next to Upper Canada Mall
37 miles from downtown Toronto
No swimming pool
Free WiFi
Free parking

Not pet friendly - no pets allowed. - Jan 2020


Most Recent HotelGuides Reviews Read >

TripAdvisor Traveler Rating:




Based on 563 reviews

Read Recent Reviews

9 miles

Holiday Inn Express & Suites Richmond Hill


10 East Pearce Street, Richmond Hill, ON L4B 0A8


9 miles to King City


Enter Dates







| | |
| --- | --- |
| Check In | 15 00 |
| Check Out | 12 00 |




Rated High

Upper-midscale, smoke-free hotel
5 miles from Richmond Hill Centre for Performing Arts
16 miles from Canadas Wonderland
Heated indoor swimming pool - exercise room
Free hot breakfast buffet
Free WiFi
Free parking

Pet friendly hotel More >

Most Recent HotelGuides Reviews Read >

TripAdvisor Traveler Rating:




Based on 288 reviews

Read Recent Reviews

9 miles

Sheraton Parkway Hotel & Suites Richmond Hill


600 Highway 7, Richmond Hill, ON L4B 1B2


9 miles to King City


Enter Dates







| | |
| --- | --- |
| Check In | 1500 |
| Check Out | 1200 |




Rated High

Upscale, smoke-free, full-service hotel
19 miles from downtown Toronto
2 heated indoor swimming pools - outdoor pool
Fitness centre
Free WiFi
Free parking

Pet friendly hotel More >

Most Recent HotelGuides Reviews Read >

TripAdvisor Traveler Rating:




Based on 793 reviews

Read Recent Reviews

9 miles

Sonesta ES Suites Markham


355 South Park Road, Markham, ON L3T 7W2


9 miles to King City


Enter Dates







| | |
| --- | --- |
| Check In | 15 00 |
| Check Out | 12 00 |




Rated High

Midscale, smoke-free, all-suite, extended-stay hotel
16 miles from Canadas Wonderland
Heated indoor swimming pool - exercise room
Kitchen in every suite
Free hot breakfast buffet
Free WiFi
Free parking

Pet friendly hotel More >

Most Recent HotelGuides Reviews Read >

TripAdvisor Traveler Rating:




Based on 363 reviews

Read Recent Reviews

9 miles

Best Western Parkway Hotel Richmond Hill


600 Highway 7 East, Richmond Hill, ON L4B 1B2


9 miles to King City


Enter Dates







| | |
| --- | --- |
| Check In | 1500 |
| Check Out | 1100 |




Rated Average

Upper-midscale, smoke-free, full-service hotel
19 miles from downtown Toronto
Heated indoor swimming pool
Heated outdoor pool open in summer - exercise room
Free WiFi
Free parking

Not pet friendly - no pets allowed. - Jan 2020


Most Recent HotelGuides Reviews Read >

TripAdvisor Traveler Rating:




Based on 552 reviews

Read Recent Reviews

9 miles

Hilton Garden Inn Vaughan


3201 Highway 7, Vaughan, ON L4K 5Z7


9 miles to King City


Enter Dates







| | |
| --- | --- |
| Check In | 15 00 |
| Check Out | 12 00 |




Rated Average

Upscale, smoke-free hotel near Vaughan Mills Mall
4 miles from Canadas Wonderland
Heated indoor swimming pool - exercise room
Free WiFi
Parking costs $10 per night

Not pet friendly - no pets allowed. - Oct 2015


Most Recent HotelGuides Reviews Read >

TripAdvisor Traveler Rating:




Based on 939 reviews

Read Recent Reviews

9 miles

Courtyard by Marriott Hotel Markham


65 Minthorn Blvd, Markham, ON L3T 7N5


9 miles to King City


Enter Dates







| | |
| --- | --- |
| Check In | 1500 |
| Check Out | 1200 |




Rated High

Upscale, smoke-free hotel
19 miles from Toronto
16 miles from Canadas Wonderland
Heated indoor swimming pool - exercise room
Free WiFi
Free parking

Not pet friendly - no pets allowed. - Dec 2015


Most Recent HotelGuides Reviews Read >

TripAdvisor Traveler Rating:




Based on 270 reviews

Read Recent Reviews

9 miles

Residence Inn by Marriott Markham


55 Minthorn Blvd, Markham, ON L3T 7N5


9 miles to King City


Enter Dates







| | |
| --- | --- |
| Check In | 1500 |
| Check Out | 1200 |




Rated High

Upscale, smoke-free, all-suite, extended-stay hotel
16 miles from Canadas Wonderland
19 miles from Toronto
Heated indoor swimming pool - exercise room
Kitchen in every suite
Free hot breakfast buffet
Free WiFi
Free parking

Pet friendly hotel More >

Most Recent HotelGuides Reviews Read >

TripAdvisor Traveler Rating:




Based on 251 reviews

Read Recent Reviews

9 miles

Hilton Garden Inn Markham


300 Commerce Valley Drive East, Markham, ON L3T 7X3


9 miles to King City


Enter Dates







| | |
| --- | --- |
| Check In | 15 00 |
| Check Out | 12 00 |




Rated High

Upscale, smoke-free, highway hotel
18 miles from downtown Toronto
16 miles from Canadas Wonderland
Heated indoor swimming pool - exercise room
Free WiFi
Free parking

Not pet friendly - no pets allowed. - Jan 2022


Most Recent HotelGuides Reviews Read >

TripAdvisor Traveler Rating:




Based on 869 reviews

Read Recent Reviews

10 miles

Monte Carlo Inn Toronto Markham


8900 Woodbine Avenue, Markham, ON L3R 5K6


10 miles to King City


Enter Dates







| | |
| --- | --- |
| Check In | 14 00 |
| Check Out | 11 00 |




Rated Average

Upper-midscale, smoke-free, full-service hotel
Near Highway 7 at Woodbine Avenue
Also near First Markham Place
No swimming pool
Exercise room
Free WiFi
Free parking

Not pet friendly - no pets allowed. - Dec 2015


Most Recent HotelGuides Reviews Read >

TripAdvisor Traveler Rating:




Based on 327 reviews

Read Recent Reviews

10 miles

Residence Inn by Marriott Vaughan


11 Interchange Way, Vaughan, ON L4K 4L4


10 miles to King City


Enter Dates







| | |
| --- | --- |
| Check In | 1500 |
| Check Out | 1200 |




Rated High

Upscale, smoke-free, all-suite, extended-stay hotel
Near Vaughan Mills Mall
4 miles from Canadas Wonderland
Heated indoor swimming pool - exercise room
Free hot breakfast buffet
Free WiFi
Free parking

Pet friendly hotel More >

Most Recent HotelGuides Reviews Read >

TripAdvisor Traveler Rating:




Based on 309 reviews

Read Recent Reviews

10 miles

Courtyard by Marriott Hotel Vaughan


150 Interchange Way, Vaughan, ON L4K 5P7


10 miles to King City


Enter Dates







| | |
| --- | --- |
| Check In | 1500 |
| Check Out | 1200 |




Rated Average

Upscale, smoke-free hotel near York University
4.5 miles from Canadas Wonderland
Heated indoor swimming pool
24-hour exercise room
Free WiFi
Free parking

Not pet friendly - no pets allowed. - Jul 2022


Most Recent HotelGuides Reviews Read >

TripAdvisor Traveler Rating:




Based on 266 reviews

Read Recent Reviews

10 miles

Edward Village Hotel Markham


50 East Valhalla Drive, Markham, ON L3R 0A3


10 miles to King City


Enter Dates







| | |
| --- | --- |
| Check In | 15 00 |
| Check Out | 12 00 |




Rated Average

Upscale, smoke-free, full-service hotel
17 miles from Canadas Wonderland
Near First Markham Place
Heated indoor swimming pool - exercise room
Free WiFi
Free parking

Pet friendly hotel More >

TripAdvisor Traveler Rating:




Based on 294 reviews

Read Recent Reviews

10 miles

Park Inn by Radisson Markham


555 Cochrane Drive, Markham, ON L3R 8E3


10 miles to King City


Enter Dates







| | |
| --- | --- |
| Check In | 15 00 |
| Check Out | 12 00 |




Rated Average

Midscale, smoke-free, full-service, highway hotel
Near First Markham Place
Heated indoor swimming pool - exercise room
Free WiFi
Free parking

Not pet friendly - no pets allowed. - Dec 2015


Most Recent HotelGuides Reviews Read >

TripAdvisor Traveler Rating:




Based on 842 reviews

Read Recent Reviews

10 miles

Comfort Inn Northeast Markham


8330 Woodbine Avenue, Markham, ON L3R 2N8


10 miles to King City


Enter Dates







| | |
| --- | --- |
| Check In | 14 00 |
| Check Out | 11 00 |




Rated Average

Midscale, smoke-free hotel near First Markham Place
8 miles from downtown Markham
Heated indoor swimming pool - exercise room
Free hot breakfast buffet
Free WiFi
Free parking - truck parking

Pet friendly hotel More >

Most Recent HotelGuides Reviews Read >

TripAdvisor Traveler Rating:




Based on 273 reviews

Read Recent Reviews

10 miles

Hampton Inn & Suites Bolton


12700 Highway 50, Bolton, ON L7E 1L9


10 miles to King City


Enter Dates







| | |
| --- | --- |
| Check In | 15 00 |
| Check Out | 11 00 |




Rated High

Upper-midscale, smoke-free hotel near downtown
Heated indoor swimming pool - exercise room
Free hot breakfast buffet
Free WiFi
Free parking

Not pet friendly - no pets allowed. - Dec 2015


TripAdvisor Traveler Rating:




Based on 345 reviews

Read Recent Reviews

10 miles

Homewood Suites by Hilton Markham


50 Bodrington Court, Markham, ON L6G 0A9


10 miles to King City


Enter Dates







| | |
| --- | --- |
| Check In | 15 00 |
| Check Out | 12 00 |




Rated High

Upscale, smoke-free, all-suite, extended-stay, highway hotel
Near First Markham Place
20 miles from downtown Toronto
Free shuttle to attractions within 3-mile radius
Heated indoor swimming pool - exercise room
Kitchen in every suite
Free hot breakfast buffet
Free WiFi
Free parking - truck parking

Pet friendly hotel More >

TripAdvisor Traveler Rating:




Based on 723 reviews

Read Recent Reviews

11 miles

Hilton Suites Conference Centre Markham


8500 Warden Avenue, Markham, ON L6G 1A5


11 miles to King City


Enter Dates







| | |
| --- | --- |
| Check In | 15 00 |
| Check Out | 11 00 |




Rated High

Upper-upscale, smoke-free, full-service, all-suite hotel
Near First Markham Place
20 miles from downtown Toronto
Free shuttle to local attractions
Heated indoor swimming pool - exercise room
Full-service spa
Internet access costs $10 per night
Parking costs $10 per night

Pet friendly hotel More >

Most Recent HotelGuides Reviews Read >

TripAdvisor Traveler Rating:




Based on 1294 reviews

Read Recent Reviews

11 miles

Comfort Inn Newmarket


1230 Journey's End Circle, Newmarket, ON L3Y 8Z6


11 miles to King City


Enter Dates







| | |
| --- | --- |
| Check In | 15 00 |
| Check Out | 11 00 |




Rated High

Midscale, smoke-free hotel
2 miles from Southlake Regional Health Centre
3 miles from downtown Newmarket
No swimming pool
Free hot breakfast buffet
Free WiFi
Free parking

Pet friendly hotel More >

Most Recent HotelGuides Reviews Read >

TripAdvisor Traveler Rating:




Based on 236 reviews

Read Recent Reviews

11 miles

Holiday Inn Express & Suites Vaughan


6100 Highway 7, Vaughan, ON L4H 0R2


11 miles to King City


Enter Dates







| | |
| --- | --- |
| Check In | 15 00 |
| Check Out | 12 00 |




Rated Very High

Upper-midscale, smoke-free hotel
7 miles from Toronto Airport
10 miles from Canadas Wonderland
Heated indoor swimming pool - exercise room
Free continental breakfast
Free WiFi
Free parking

Pet friendly hotel More >

Most Recent HotelGuides Reviews Read >

TripAdvisor Traveler Rating:




Based on 343 reviews

Read Recent Reviews

11 miles

Toronto Marriott Markham Hotel


170 Enterprise Blvd, Markham, ON L6G 0E6


11 miles to King City


Enter Dates







| | |
| --- | --- |
| Check In | 1500 |
| Check Out | 1200 |




Rated High

Upper-upscale, smoke-free, full-service hotel
Near First Markham Place
Indoor swimming pool - exercise room
WiFi costs $6 per night
Parking costs $20 per night

Not pet friendly - no pets allowed. - Apr 2018


TripAdvisor Traveler Rating:




Based on 142 reviews

Read Recent Reviews
We can also help you find hotels in
King City, Oregon
and in
King City, California
.
HotelGuides offers the best price. The website is easy to use and gives you the total price, including taxes.

- Thomas Clark
Why Book Here?

Pay at hotel
Cancel free
Lowest price guarantee
We add no fees.
If you don't like your hotel,
we'll refund your money.
Cash rewards + hotel points too
King City Group Hotel Rates
Hotels near Me

Hotels near Eagles Nest Golf Club 4.8 miles SE


Hotels near Richmond Hill Centre 6 miles SE


Hotels near Canadas Wonderland 6 miles south


Hotels near Vaughan Mills Mall 7 miles south


Hotels near Bass Pro Shops Vaughan 7 miles south


Hotels near Highway 7 Vaughan 9 miles south


Hotels near KMH Cardiology Centres Inc. 9 miles SE


Hotels near Shouldice Hospital 10 miles SE


Hotels near Interchange Way Vaughan 10 miles south


Hotels near IKEA Vaughan 10 miles south


Hotels near Chateau Le Jardin 11 miles SW


Hotels near York University 11 miles south


Hotels near Sobeys Stadium 11 miles south


Hotels near National Bank Open 11 miles south


Hotels near Markham Fairgrounds 11 miles east



Richmond Hill ON Hotels 6 miles SE


Vaughan ON Hotels 6 miles south


Aurora ON Hotels 7 miles NE


Thornhill ON Hotels 9 miles SE


Newmarket ON Hotels 10 miles north


Bolton ON Hotels 11 miles west


Markham ON Hotels 11 miles SE


North York ON Hotels 12 miles SE


Whitchurch-Stouffville ON Hotels 14 miles east


Scarborough ON Hotels 18 miles SE


Cookstown ON Hotels 20 miles NW


Toronto ON Hotels 20 miles south


Etobicoke ON Hotels 21 miles south


Alliston ON Hotels 23 miles NW


Pickering ON Hotels 23 miles east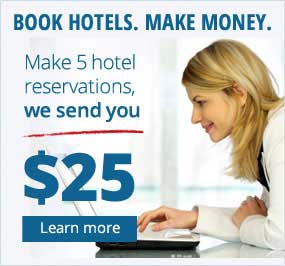 On place pages like this, we order hotels from lowest cost to highest – except we list low-rated hotels at the bottom of the page.

Most of our competitors order these same hotels in other ways that make them more money.
To us, motels are smaller lodgings that have rooms you can enter directly from the parking area.

At hotels, on the other hand, you can enter your room only through a hall inside the building.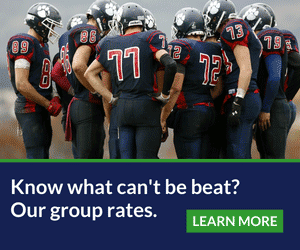 Beware of non-refundable reservations that could cost you a lot of money if you change or cancel them. +

Non-refundable reservations are a gamble that will usually save you less than $10. If you make a $90 non-refundable reservation instead of a $100 refundable booking, you are betting $90 to win $10. Would you do that in Las Vegas?

Don't assume you can cancel a non-refundable reservation without penalty if you notify the hotel weeks or even months in advance. +

Often you cannot – because some hotels' profit strategy is to get paid more than once for the same room for the same night.

Always read cancellation policies carefully before you make a reservation. +

When is the latest date and time you can cancel without penalty?


More >
When you make a reservation, you will receive a confirmation email. Take a copy with you to the hotel.
The earlier in the afternoon you check into a hotel, the more likely you will get a room or suite that matches your preferences.