Rates shown below are averages. Click See Rates to view rates for your dates.

2.4 miles

Comfort Suites North Brunswick


2880 US 1, North Brunswick, NJ 08902


2.4 miles to Kendall Park


Enter Dates







| | |
| --- | --- |
| Check In | 15 00 |
| Check Out | 11 00 |




Rated Average

Midscale, smoke-free, all-suite, highway hotel
Near downtown North Brunswick
7 miles southeast of Rutgers University New Brunswick
No swimming pool
Exercise room
Free hot breakfast buffet
Free WiFi
Free parking

Not pet friendly - no pets allowed. - Mar 2016


TripAdvisor Traveler Rating:




Based on 101 reviews

Read Recent Reviews

2.7 miles

Best Western Inn & Suites Monmouth Junction


4191 US 1, Monmouth Junction, NJ 08852


2.7 miles to Kendall Park


Enter Dates







| | |
| --- | --- |
| Check In | 1600 |
| Check Out | 1100 |




Rated High

Midscale, smoke-free, highway hotel
6 miles from Princeton University
35 miles southwest of Newark Airport
No swimming pool
Exercise room
Free hot breakfast buffet
Free WiFi
Free parking

Not pet friendly - no pets allowed. - Dec 2019


Most Recent HotelGuides Reviews Read >

TripAdvisor Traveler Rating:




Based on 320 reviews

Read Recent Reviews

3.0 miles

Red Carpet Inn & Suites Monmouth Junction


2070 NJ 130 North, Monmouth Junction, NJ 08852


3.0 miles to Kendall Park


Enter Dates







| | |
| --- | --- |
| Check In | 15 00 |
| Check Out | 11 00 |




Rated High

Cheap, smoke-free, highway hotel
12.5 miles northeast of Princeton
No swimming pool
Free continental breakfast
Free WiFi
Free parking

Not pet friendly - no pets allowed. - Nov 2015


TripAdvisor Traveler Rating:




Based on 51 reviews

Read Recent Reviews

3.2 miles

Courtyard by Marriott Hotel North Brunswick


231 Main Street, North Brunswick, NJ 08902


3.2 miles to Kendall Park


Enter Dates







| | |
| --- | --- |
| Check In | 1500 |
| Check Out | 1200 |




Rated Average

Upscale, smoke-free hotel
2.5 miles from downtown
Indoor swimming pool - exercise room
Free WiFi
Free parking

Not pet friendly - no pets allowed. - Aug 2018


Most Recent HotelGuides Reviews Read >

TripAdvisor Traveler Rating:




Based on 17 reviews

Read Recent Reviews

3.3 miles

Sonesta ES Suites Monmouth Junction


4225 US 1, Monmouth Junction, NJ 08852


3.3 miles to Kendall Park


Enter Dates







| | |
| --- | --- |
| Check In | 15 00 |
| Check Out | 12 00 |




Rated Average

Midscale, smoke-free, all-suite, extended-stay hotel
Near Princeton Forrestal Outlet Mall
Outdoor swimming pool open in summer - exercise room
Kitchen in every suite
Free hot breakfast buffet
Free WiFi
Free parking

Pet friendly hotel More >

TripAdvisor Traveler Rating:




Based on 358 reviews

Read Recent Reviews

3.7 miles

Staybridge Suites North Brunswick


2195 US 1 South, North Brunswick, NJ 08902


3.7 miles to Kendall Park


Enter Dates







| | |
| --- | --- |
| Check In | 16 00 |
| Check Out | 11 00 |




Rated Very High

Upscale, smoke-free, all-suite, extended-stay hotel
4 miles from Rutgers University
Heated indoor swimming pool - exercise room
Kitchen in every suite
Free hot breakfast buffet
Free WiFi
Free parking

Pet friendly hotel More >

TripAdvisor Traveler Rating:




Based on 142 reviews

Read Recent Reviews

3.8 miles

Holiday Inn Express & Suites North Brunswick


2095 US 1, North Brunswick, NJ 08902


3.8 miles to Kendall Park


Enter Dates







| | |
| --- | --- |
| Check In | 16 00 |
| Check Out | 11 00 |




Rated High

Upper-midscale, smoke-free, highway hotel
4.5 miles from downtown New Brunswick
Heated indoor swimming pool - exercise room
Free hot breakfast buffet
Free WiFi
Free parking - truck parking

Not pet friendly - no pets allowed. - Feb 2018


TripAdvisor Traveler Rating:




Based on 34 reviews

Read Recent Reviews

4.2 miles

DoubleTree by Hilton Hotel Princeton


4355 US 1, Princeton, NJ 08540


4.2 miles to Kendall Park


Enter Dates







| | |
| --- | --- |
| Check In | 15 00 |
| Check Out | 12 00 |




Rated High

Upscale, smoke-free, full-service hotel
Near Princeton University Forrestal Campus
Free shuttle to attractions within 5-mile radius
Heated indoor swimming pool - exercise room
Free WiFi
Free parking

Not pet friendly - no pets allowed. - May 2015


Most Recent HotelGuides Reviews Read >

TripAdvisor Traveler Rating:




Based on 1234 reviews

Read Recent Reviews

4.4 miles

Sonesta ES Suites Princeton


4375 US 1, Princeton, NJ 08540


4.4 miles to Kendall Park


Enter Dates







| | |
| --- | --- |
| Check In | 16 00 |
| Check Out | 12 00 |




Rated Very High

Upscale, smoke-free, all-suite, extended-stay hotel
Near Princeton University
Free shuttle to local attractions
Outdoor swimming pool open in summer - exercise room
Kitchen in every suite
Free continental breakfast
Free WiFi
Free parking

Pet friendly hotel More >

Most Recent HotelGuides Reviews Read >

TripAdvisor Traveler Rating:




Based on 855 reviews

Read Recent Reviews

4.4 miles

Holiday Inn Princeton


100 Independence Way, Princeton, NJ 08540


4.4 miles to Kendall Park


Enter Dates







| | |
| --- | --- |
| Check In | 15 00 |
| Check Out | 11 00 |




Rated Average

Upper-midscale, smoke-free hotel
Near Princeton University Forrestal Campus
Free shuttle to local attractions
Outdoor swimming pool - exercise room
Free WiFi
Free parking

Pet friendly hotel More >

TripAdvisor Traveler Rating:




Based on 201 reviews

Read Recent Reviews

4.5 miles

Hampton Inn Princeton


4385 US 1, Princeton, NJ 08540


4.5 miles to Kendall Park


Enter Dates







| | |
| --- | --- |
| Check In | 15 00 |
| Check Out | 11 00 |




Rated Very High

Upper-midscale, smoke-free hotel
Near Princeton University
Free shuttle to attractions within 10-mile radius
Outdoor swimming pool open in summer - exercise room
Free hot breakfast buffet
Free WiFi
Free parking - truck parking

Pet friendly hotel More >

Most Recent HotelGuides Reviews Read >

TripAdvisor Traveler Rating:




Based on 1110 reviews

Read Recent Reviews

4.9 miles

Marriott Hotel at Forrestal Princeton


100 College Road East, Princeton, NJ 08540


4.9 miles to Kendall Park


Enter Dates







| | |
| --- | --- |
| Check In | 1600 |
| Check Out | 1200 |




Rated High

Upper-upscale, smoke-free, full-service hotel
Near Princeton University Forrestal Campus
Free shuttle to local attractions
Heated indoor swimming pool - exercise room
Internet access costs $13 per night
Free parking

Not pet friendly - no pets allowed. - Feb 2017


Most Recent HotelGuides Reviews Read >

TripAdvisor Traveler Rating:




Based on 683 reviews

Read Recent Reviews

5 miles

Westin at Forrestal Village Hotel Princeton


201 Village Blvd, Princeton, NJ 08540


5 miles to Kendall Park


Enter Dates







| | |
| --- | --- |
| Check In | 1500 |
| Check Out | 1200 |




Rated Average

Upscale, smoke-free, full-service hotel
Near Princeton University Forrestal Campus
Free shuttle to local attractions
Heated indoor swimming pool - outdoor pool - exercise room
Free WiFi
Free parking

Pet friendly hotel More >

TripAdvisor Traveler Rating:




Based on 774 reviews

Read Recent Reviews

6 miles

Crowne Plaza Hotel Plainsboro


900 Scudders Mill Road, Plainsboro, NJ 08536


6 miles to Kendall Park


Enter Dates







| | |
| --- | --- |
| Check In | 15 00 |
| Check Out | 11 00 |




Rated High

Upscale, smoke-free, full-service hotel
Heated indoor swimming pool - exercise room
Free WiFi
Free parking

Not pet friendly - no pets allowed. - July 2020


Most Recent HotelGuides Reviews Read >

TripAdvisor Traveler Rating:




Based on 316 reviews

Read Recent Reviews

6 miles

Holiday Inn Express Plainsboro


870 Scudders Mill Road, Plainsboro, NJ 08536


6 miles to Kendall Park


Enter Dates







| | |
| --- | --- |
| Check In | 1500 |
| Check Out | 1100 |




Rated High

Upper-midscale, smoke-free hotel
Near Princeton University
Heated indoor swimming pool - exercise room
Free hot breakfast buffet
Free WiFi
Free parking - truck parking

Not pet friendly - no pets allowed. - May 2021


Most Recent HotelGuides Reviews Read >

TripAdvisor Traveler Rating:




Based on 187 reviews

Read Recent Reviews

6 miles

Towneplace Suites by Marriott Cranbury


2535 US 130, Cranbury, NJ 08512


6 miles to Kendall Park


Enter Dates







| | |
| --- | --- |
| Check In | 1500 |
| Check Out | 1200 |




Rated High

Midscale, smoke-free, all-suite, extended-stay hotel
Near Park Chateau - 11.5 miles from Princeton Universtiy
Indoor swimming pool - 24-hour exercise room
Kitchen in every suite
Free hot breakfast buffet
Free WiFi
Free parking

Pet friendly hotel More >

Most Recent HotelGuides Reviews Read >

TripAdvisor Traveler Rating:




Based on 62 reviews

Read Recent Reviews

6 miles

Hampton Inn North Brunswick


841 Georges Road, North Brunswick, NJ 08902


6 miles to Kendall Park


Enter Dates







| | |
| --- | --- |
| Check In | 15 00 |
| Check Out | 12 00 |




Rated Very High

Upper-midscale, smoke-free hotel near Rutgers University
Heated indoor swimming pool - exercise room
Free hot breakfast buffet
Free WiFi
Free parking

Not pet friendly - no pets allowed. - Mar 2016


Most Recent HotelGuides Reviews Read >

TripAdvisor Traveler Rating:




Based on 477 reviews

Read Recent Reviews

6 miles

Residence Inn by Marriott Cranbury


2662 Route 130, Cranbury, NJ 08512


6 miles to Kendall Park


Enter Dates







| | |
| --- | --- |
| Check In | 1600 |
| Check Out | 1200 |




Rated Average

Upscale, smoke-free, all-suite, extended-stay hotel
10 miles from Princeton
Heated indoor swimming pool - exercise room
Kitchen in every suite
Free hot breakfast buffet
Free WiFi
Free parking

Pet friendly hotel More >

TripAdvisor Traveler Rating:




Based on 159 reviews

Read Recent Reviews

6 miles

Homewood Suites by Hilton Princeton


3819 Route 1 South, Princeton, NJ 08540


6 miles to Kendall Park


Enter Dates







| | |
| --- | --- |
| Check In | 15 00 |
| Check Out | 12 00 |




Rated High

Upscale, smoke-free, all-suite, extended-stay hotel near US 1
Convenient to Princeton University
Heated indoor swimming pool - exercise room
Kitchen in every suite
Free hot breakfast buffet
Free WiFi
Free parking

Not pet friendly - no pets allowed. - Jan 2016


Most Recent HotelGuides Reviews Read >

TripAdvisor Traveler Rating:




Based on 817 reviews

Read Recent Reviews

6 miles

Courtyard by Marriott Hotel Princeton


3815 US 1, Princeton, NJ 08540


6 miles to Kendall Park


Enter Dates







| | |
| --- | --- |
| Check In | 1500 |
| Check Out | 1200 |




Rated Average

Upscale, smoke-free hotel
Near Princeton University Forrestal Campus
Free shuttle to attractions within 3-mile radius
Heated indoor swimming pool - 24-hour exercise room
Free WiFi
Free parking

Not pet friendly - no pets allowed. - Mar 2015


Most Recent HotelGuides Reviews Read >

TripAdvisor Traveler Rating:




Based on 354 reviews

Read Recent Reviews

7 miles

Nassau Inn Princeton


10 Palmer Square, Princeton, NJ 08542


7 miles to Kendall Park


Enter Dates







| | |
| --- | --- |
| Check In | 15 00 |
| Check Out | 11 00 |




Rated Average

Upscale, smoke-free, full-service, downtown hotel
This hotel is located across from Princeton University.
No swimming pool
Exercise room
Internet access costs $11 per night
Parking costs $20 per night

Pet friendly hotel More >

Most Recent HotelGuides Reviews Read >

TripAdvisor Traveler Rating:




Based on 838 reviews

Read Recent Reviews

7 miles

Hampton Inn Cranbury


1261 South River Road, Cranbury, NJ 08512


7 miles to Kendall Park


Enter Dates







| | |
| --- | --- |
| Check In | 15 00 |
| Check Out | 11 00 |




Rated Very High

Upper-midscale, smoke-free hotel
5.5 miles from Thompson Park Zoo
Indoor swimming pool - exercise room
Free hot breakfast buffet
Free WiFi
Free parking

Not pet friendly - no pets allowed. - Jan 2019


Most Recent HotelGuides Reviews Read >

TripAdvisor Traveler Rating:




Based on 101 reviews

Read Recent Reviews

7 miles

Peacock Inn Princeton


20 Bayard Lane, Princeton, NJ 08542


7 miles to Kendall Park


Enter Dates







| | |
| --- | --- |
| Check In | 16 00 |
| Check Out | 11 00 |




Rated Very High

Upscale, smoke-free, downtown inn near Princeton University
An Ascend Hotel Collection Member
No swimming pool
Free WiFi
Free parking

Not pet friendly - no pets allowed. - Feb 2017


TripAdvisor Traveler Rating:




Based on 19 reviews

Read Recent Reviews

8 miles

Staybridge Suites Cranbury


1272 South River Road, Cranbury, NJ 08512


8 miles to Kendall Park


Enter Dates







| | |
| --- | --- |
| Check In | 15 00 |
| Check Out | 12 00 |




Rated High

Upscale, smoke-free, all-suite, extended-stay hotel
10 miles southeast of Princeton
Outdoor swimming pool - exercise room
Kitchen in every suite
Free hot breakfast buffet
Free WiFi
Free parking

Pet friendly hotel More >

Most Recent HotelGuides Reviews Read >

TripAdvisor Traveler Rating:




Based on 173 reviews

Read Recent Reviews

8 miles

Homewood Suites by Hilton Somerset


101 Pierce Street, Somerset, NJ 08873


8 miles to Kendall Park


Enter Dates







| | |
| --- | --- |
| Check In | 15 00 |
| Check Out | 12 00 |




Rated High

Upscale, smoke-free, all-suite, extended-stay hotel
Near Rutgers University
Heated indoor swimming pool - exercise room
Kitchen in every suite
Free hot breakfast buffet
Free WiFi
Free parking

Pet friendly hotel More >

Most Recent HotelGuides Reviews Read >

TripAdvisor Traveler Rating:




Based on 724 reviews

Read Recent Reviews

8 miles

Fairfield Inn & Suites by Marriott Somerset


315 Davidson Avenue, Somerset, NJ 08873


8 miles to Kendall Park


Enter Dates







| | |
| --- | --- |
| Check In | 1500 |
| Check Out | 1200 |




Rated Very High

Upper-midscale, smoke-free hotel 6 miles from Rutgers University
Free shuttle to attractions within 5-mile radius
No swimming pool
Exercise room
Free hot breakfast buffet
Free WiFi
Free parking

Not pet friendly - no pets allowed. - Sep 2015


Most Recent HotelGuides Reviews Read >

TripAdvisor Traveler Rating:




Based on 223 reviews

Read Recent Reviews

8 miles

Heldrich Hotel New Brunswick


10 Livingston Avenue, New Brunswick, NJ 08901


8 miles to Kendall Park


Enter Dates







| | |
| --- | --- |
| Check In | 16 00 |
| Check Out | 12 00 |




Rated High

Upscale, smoke-free, full-service hotel
Near Rutgers University
Heated indoor swimming pool - exercise room
Full-service spa
Free WiFi
Parking costs $21 per night

Pet friendly hotel More >

Most Recent HotelGuides Reviews Read >

TripAdvisor Traveler Rating:




Based on 985 reviews

Read Recent Reviews

8 miles

AVE Apartments Somerset


199 Pierce Street, Somerset, NJ 08873


8 miles to Kendall Park


Enter Dates







| | |
| --- | --- |
| Check In | 15 00 |
| Check Out | 11 00 |




Rated Very High

Midscale, smoke-free apartments
6 miles from Rutgers University
1-month minimum stay required
Outdoor swimming pool - exercise room
Kitchen in every apartment
Free WiFi
Free parking

Not pet friendly - no pets allowed. - Nov 2015


TripAdvisor Traveler Rating:




Based on 8 reviews

Read Recent Reviews

8 miles

Sonesta ES Suites Somerset


260 Davidson Avenue, Somerset, NJ 08873


8 miles to Kendall Park


Enter Dates







| | |
| --- | --- |
| Check In | 15 00 |
| Check Out | 12 00 |




Rated High

Midscale, all-suite, extended-stay motel
6 miles from Rutgers University
Heated outdoor swimming pool - exercise room
Kitchen in every suite
Free hot breakfast buffet
Free WiFi
Free parking

Not pet friendly - no pets allowed - Jul 2015


Most Recent HotelGuides Reviews Read >

TripAdvisor Traveler Rating:




Based on 383 reviews

Read Recent Reviews
We can also help you find hotels in
Kendall, Florida
.
Why Book Here?

Pay at hotel
Cancel free
Lowest price guarantee
We add no fees.
If you don't like your hotel,
we'll refund your money.
Cash rewards + hotel points too
Kendall Park Group Hotel Rates
Hotels near Me

Hotels near Marigold 5 miles NE


Hotels near Westminster Choir College 7 miles SW


Hotels near Princeton Stadium 7 miles SW


Hotels near Jadwin Gymnasium 7 miles SW


Hotels near Downtown Princeton 7 miles SW


Hotels near Princeton University 7 miles SW


Hotels near Park Chateau Estate & Gardens 7 miles east


Hotels near Palmer Square 7 miles SW


Hotels near Route 1 Princeton 7 miles SW


Hotels near Robert Wood Johnson University Hospital 8 miles NE


Hotels near Davidson Avenue Somerset 8 miles north


Hotels near State Theatre 8 miles NE


Hotels near Princeton Junction Station 8 miles SW


Hotels near New Brunswick Station 8 miles NE


Hotels near HighPoint.com Stadium 8 miles NE



Monmouth Junction NJ Hotels 3.0 miles south


South Brunswick NJ Hotels 3.2 miles SE


Dayton NJ Hotels 4.3 miles SE


North Brunswick NJ Hotels 4.9 miles NE


Franklin Township NJ Hotels 5 miles north


Plainsboro NJ Hotels 6 miles south


Somerset NJ Hotels 7 miles NE


Milltown NJ Hotels 7 miles east


Princeton NJ Hotels 7 miles SW


New Brunswick NJ Hotels 7 miles NE


Cranbury NJ Hotels 8 miles south


Princeton Junction NJ Hotels 8 miles SW


Jamesburg NJ Hotels 8 miles SE


East Brunswick NJ Hotels 8 miles east


Manville NJ Hotels 8 miles north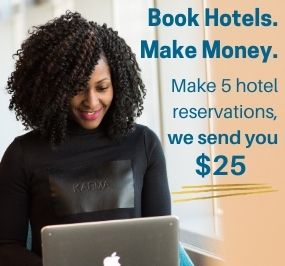 On place pages like this, we order hotels from lowest cost to highest – except we list low-rated hotels at the bottom of the page.

Most of our competitors order these same hotels in other ways that make them more money.
To us, motels are smaller lodgings that have rooms you can enter directly from the parking area.

At hotels, on the other hand, you can enter your room only through a hall inside the building.
Beware of non-refundable reservations that could cost you a lot of money if you change or cancel them. +

Non-refundable reservations are a gamble that will usually save you less than $10. If you make a $90 non-refundable reservation instead of a $100 refundable booking, you are betting $90 to win $10. Would you do that in Las Vegas?

Don't assume you can cancel a non-refundable reservation without penalty if you notify the hotel weeks or even months in advance. +

Often you cannot – because some hotels' profit strategy is to get paid more than once for the same room for the same night.

Always read cancellation policies carefully before you make a reservation. +

When is the latest date and time you can cancel without penalty?


More >
When you make a reservation, you will receive a confirmation email. Take a copy with you to the hotel.
The earlier in the afternoon you check into a hotel, the more likely you will get a room or suite that matches your preferences.