Downtown Gatlinburg Hotels – Gatlinburg, Tennessee
---
Welcome to our Downtown Gatlinburg hotels guide ... where you'll find honest, concise hotel reviews, all discounts, a lowest rate guarantee, and no booking fees.
Downtown Gatlinburg Hotels and Reviews

Gatlinburg hotels - all locations
Best value hotels are listed first. These are good hotels that cost less than other good hotels. Based on guest reviews and nightly room rates.
Hotels near Center of Downtown Gatlinburg TN

Hotels closest to Center of Downtown Gatlinburg TN – as the crow flies – are listed first.

Hampton Inn Gatlinburg


967 Parkway, Gatlinburg, TN 37738

0 mile



From $189
See Rates




Rated High Midscale, smoke-free, downtown Gatlinburg hotel

In downtown Gatlinburg on the Strip

Map

of hotel and Center of Downtown Gatlinburg TN

Smoke-free hotel - does not allow pets

Free hot breakfast - Free Internet in room

Most Recent Guest Review

"Great location. The hotel room was clean and comfortable, and the staff was friendly. Nice breakfast. I'd definitely stay here again."

TripAdvisor Traveler Rating:


Based on 742 reviews

Read Recent Reviews

Quality Inn Creekside Gatlinburg


125 LeConte Creek Dr, Gatlinburg, TN 37738

0.1 mile



From $150
See Rates




Rated Average Midscale, downtown Gatlinburg motel near the Strip

Walk to shops and restaurants

Map

of hotel and Center of Downtown Gatlinburg TN

Hotel does not allow pets

Free continental breakfast - Free Internet in room

Most Recent Guest Review

"The motel room was dirty. Rude service. Couldn't use the pool next to our building because we didn't rent a condo, so we had to walk a mile to use a pool. Choose another place to stay."

TripAdvisor Traveler Rating:


Based on 417 reviews

Read Recent Reviews

Clarion Inn & Suites Gatlinburg


1100 Parkway, Gatlinburg, TN 37738

0.1 mile



From $209
See Rates




Rated Average Midscale, smoke-free, downtown Gatlinburg hotel

Near the Strip

Map

of hotel and Center of Downtown Gatlinburg TN

Smoke-free hotel - does not allow pets

Free hot breakfast

Most Recent Guest Review

"Walk to great restaurants. Everything about this hotel was satisfactory. The room was clean, and plenty of towels were provided. The staff was courteous. Good complimentary breakfast."

TripAdvisor Traveler Rating:


Based on 502 reviews

Read Recent Reviews

Days Inn & Suites Downtown Gatlinburg Parkway


1109 Parkway, Gatlinburg, TN 37738

0.1 mile



From $72
See Rates




Rated Very Low – Not Recommended Cheap, downtown Gatlinburg motel on Strip

3 floors, 101 rooms and suites - elevator

Map

of hotel and Center of Downtown Gatlinburg TN

Hotel does not allow pets

Free continental breakfast - Free Internet in room

Most Recent Guest Review

"The motel was old and didn't have an elevator, and my room was on the 2nd floor. Another guest kindly carried my luggage upstairs for me. My room was clean. The check-in line was out the door, and there was only one clerk. I didn't care for the breakfast."

TripAdvisor Traveler Rating:


Based on 971 reviews

Read Recent Reviews

Microtel Inn by Wyndham Gatlinburg


211 Historic Nature Trail, Gatlinburg, TN 37738

0.1 mile



From $108
See Rates




Rated Low – Not Recommended Cheap, downtown Gatlinburg hotel

Near the Strip and Convention Center

Map

of hotel and Center of Downtown Gatlinburg TN

Hotel does not allow pets

Free continental breakfast - Free Internet in room

Most Recent Guest Review

"Good location and value. We'd asked for a 1st floor smoking room. That option wasn't available, but instead of contacting us, the hotel staff put us in a 1st floor non-smoking room. OK room, but the toilet hadn't been flushed, and there was hair in the shower. Still, a good place to stay overall. "

TripAdvisor Traveler Rating:


Based on 809 reviews

Read Recent Reviews

Econo Lodge Inn & Suites Gatlinburg


135 Reagan Drive, Gatlinburg, TN 37738

0.2 mile



From $143
See Rates




Rated Average Cheap, downtown Gatlinburg motel near Strip

Behind Ripley's Believe It Or Not Museum

Map

of hotel and Center of Downtown Gatlinburg TN

Hotel does not allow pets

Free continental breakfast - Free Internet in room

Most Recent Guest Review

"Nice motel, but the view from the balcony wasn't worth asking for. The beds were comfortable. Breakfast was boring. If you want a place to get a good night's sleep, stay here."

TripAdvisor Traveler Rating:


Based on 343 reviews

Read Recent Reviews

Hilton Garden Inn Gatlinburg


625 River Road, Gatlinburg, TN 37738

0.2 mile



From $179
See Rates




Rated Very High Upper-midscale, smoke-free, downtown Gatlinburg hotel

Near river and Aerial Tramway

Map

of hotel and Center of Downtown Gatlinburg TN

Smoke-free hotel - does not allow pets

Free Internet in room

Most Recent Guest Review

"Good experience. Highly recommend this hotel."

TripAdvisor Traveler Rating:


Based on 1183 reviews

Read Recent Reviews

Bearskin Lodge on the River Gatlinburg


840 River Road, Gatlinburg, TN 37738

0.2 mile



From $600
See Rates




Rated High Midscale, smoke-free, riverfront hotel

In downtown Gatlinburg near Aerial Tramway

Map

of hotel and Center of Downtown Gatlinburg TN

Smoke-free hotel - does not allow pets

Free continental breakfast - Free Internet in room

TripAdvisor Traveler Rating:


Based on 759 reviews

Read Recent Reviews

Country Inn & Suites by Carlson Gatlinburg


421 Reagan Lane, Gatlinburg, TN 37738

0.2 mile



From $450
See Rates




Rated High Midscale, smoke-free, downtown Gatlinburg hotel

Near Strip and Great Smoky Mountain entrance

Map

of hotel and Center of Downtown Gatlinburg TN

Smoke-free hotel - does not allow pets

Free hot breakfast - Free Internet in room

TripAdvisor Traveler Rating:


Based on 43 reviews

Read Recent Reviews

Holiday Inn Club Vacations Smoky Mountain Gatlinburg


404 Historic Nature Trial, Gatlinburg, TN 37738

0.2 mile



From $279
See Rates




Rated Very High Upper-midscale, smoke-free, downtown condos

Near Gatlinburg Convention Center

Map

of hotel and Center of Downtown Gatlinburg TN

Smoke-free hotel - does not allow pets

Free Internet in room

TripAdvisor Traveler Rating:


Based on 724 reviews

Read Recent Reviews

Super 8 Hotel Downtown Gatlinburg


417 Historic Nature Trail, Gatlinburg, TN 37738

0.2 mile



From $180
See Rates




Rated Very Low – Not Recommended Cheap, downtown Gatlinburg motel

Near convention center and Airport Road

Map

of hotel and Center of Downtown Gatlinburg TN

Hotel does not allow pets

Free continental breakfast - Free Internet in room

Most Recent Guest Review

"We booked a smoking room, but when we arrived at the hotel, we were told none were available. We had to threaten to leave before the clerk would give us the room type we reserved. Other than that, our stay was OK."

TripAdvisor Traveler Rating:


Based on 55 reviews

Read Recent Reviews

Glenstone Lodge Gatlinburg


504 Historic Nature Trail, Gatlinburg, TN 37738

0.3 mile



From $153
See Rates




Rated Average Midscale, smoke-free, downtown Gatlinburg hotel

Near Gatlinburg Convention Center

Map

of hotel and Center of Downtown Gatlinburg TN

Smoke-free hotel - does not allow pets

Free Internet in room

Most Recent Guest Review

"The entire hotel smelled old and musty. The room smelled so strongly of mildew that I had to check out and find another place to stay."

TripAdvisor Traveler Rating:


Based on 729 reviews

Read Recent Reviews

Mountain House Inn Gatlinburg


247 Newton Lane, Gatlinburg, TN 37738

0.4 mile



From $65
See Rates




Rated High Cheap, downtown Galinburg motel

Near Ripley's Aquarium

Map

of hotel and Center of Downtown Gatlinburg TN

Hotel does not allow pets

Free Internet in room

Most Recent Guest Review

"A block from downtown fun; we could walk everywhere. The room was clean. Have fun at this inn."

TripAdvisor Traveler Rating:


Based on 206 reviews

Read Recent Reviews

Travelodge Suites Gatlinburg


218 Ski Mountain Road, Gatlinburg, TN 37738

0.4 mile



From $117
See Rates




Rated Average Cheap, downtown Gatlinburg hotel on the river

Near Ober Gatlinburg

Map

of hotel and Center of Downtown Gatlinburg TN

Pet-friendly hotel

Free continental breakfast - Free Internet in room

Most Recent Guest Review

"Right on the river downtown. Good value. The hotel staff was nice."

TripAdvisor Traveler Rating:


Based on 254 reviews

Read Recent Reviews

Johnsons Inn Gatlinburg


242 Bishop Lane, Gatlinburg, TN 37738

0.4 mile



From $81
See Rates




Rated High Cheap, smoke-free, downtown Gatlinburg hotel

Near Ripley's Aquarium

Map

of hotel and Center of Downtown Gatlinburg TN

Smoke-free hotel - does not allow pets

Free Internet in room

Most Recent Guest Review

"Located off the main highway, but within walking distance of Gatlinburg. The hotel needed updating, but it was clean. So was the room, and the towels were soft. I'd stay here again."

TripAdvisor Traveler Rating:


Based on 241 reviews

Read Recent Reviews

Sidney James Mountain Lodge Gatlinburg


610 Historic Nature Trail, Gatlinburg, TN 37738

0.4 mile



From $130
See Rates




Rated Low – Not Recommended Midscale, smoke-free, downtown Gatlinburg hotel

Near convention center and Airport Road

Map

of hotel and Center of Downtown Gatlinburg TN

Smoke-free hotel - pet friendly

Free Internet in room

TripAdvisor Traveler Rating:


Based on 654 reviews

Read Recent Reviews

Baskins Creek Condos by WVR Gatlinburg


215 Woliss Lane, Gatlinburg, TN 37738

0.5 mile



From $224
See Rates




Rated Very High Midscale, smoke-free, downtown Gatlinburg condos

Near Ripley's Aquarium

Map

of hotel and Center of Downtown Gatlinburg TN

Smoke-free hotel - does not allow pets

Free Internet in room

Most Recent Guest Review

"Nice condo, but toiletries weren't provided. No hair dryer, iron, tissue, or ice trays. Couldn't use the nice balcony due to wasps and bees."

River Terrace Resort Gatlinburg


240 River Road, Gatlinburg, TN 37738

0.5 mile



From $64
See Rates




Rated Average Midscale, smoke-free, riverfront hotel

Next to Ripley's Aquarium

Map

of hotel and Center of Downtown Gatlinburg TN

Smoke-free hotel - pet friendly

Free Internet in room

Most Recent Guest Review

"Awesome location; walk to downtown. The hotel room needed upgrading, but it was clean and smelled good. We loved the balcony and never had to use the heater or AC. Nice view of the mountains and downtown streets. We noticed that other rooms were being remodeled. Nice staff. The on-site restaurant was pretty good. No elevator. The parking was awful; required driving up steep hills, and it was hard to find parking near our room. We'd definitely stay again with our little dog."

TripAdvisor Traveler Rating:


Based on 593 reviews

Read Recent Reviews

Zoders Inn & Suites Gatlinburg


402 Parkway, Gatlinburg, TN 37738

0.5 mile



From $119
See Rates




Rated High Midscale, downtown Gatlinburg motel on the river

Near Ripley's Aquarium

Map

of hotel and Center of Downtown Gatlinburg TN

Hotel does not allow pets

Free continental breakfast - Free Internet in room

Most Recent Guest Review

"We stayed in one of the super suites. It was separate from the rest of the hotel and a bit dated, but it was nice. I could see that the motel was updating the rooms. The staff was accommodating. I really enjoyed my stay."

TripAdvisor Traveler Rating:


Based on 961 reviews

Read Recent Reviews
Map of Hotels
Downtown Gatlinburg TN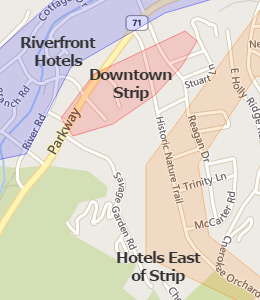 Gatlinburg Info
Pet-Friendly Gatlinburg Hotels
Gatlinburg Hotels and Reviews
Hotels near
Nearby Attractions



Gatlinburg Convention Center
0.1 mile east


Ripleys Aquarium of the Smokies
0.5 mile NE


Sweet Fanny Adams Theatre
0.7 mile NE


Great Smoky Mountains National Park
1.4 miles SW


Ober Gatlinburg Ski Resort
3 miles west


Dollywood Theme Park
7 miles north


Miracle Theater
7 miles north


Pigeon Forge Factory Outlet Mall
7 miles NW


The Island in Pigeon Forge
8 miles NW


Pigeon River Crossings
8 miles NW


Memories Theatre
8 miles NW


Mandrell Theater
9 miles NW


Sevierville Tanger Outlet Mall
10 miles north


VF Factory Outlet Pigeon Forge
10 miles north


Great Smoky Mountains National Park
19 miles SE


Johnson University
21 miles NW


Harrah's Cherokee Casino and Hotel
21 miles SE


Santa's Land Theme Park
23 miles SE


Maryville College
25 miles west


Cataloochee Ski Area
27 miles east


Gatlinburg Hotel Tips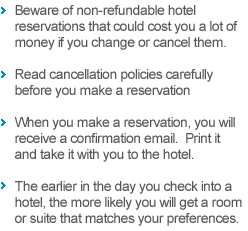 Hotels near
Nearby Cities



Pigeon Forge TN Hotels
6 miles north


Sevierville TN Hotels
12 miles north


Townsend TN Hotels
14 miles west


Walland TN Hotels
17 miles west


Cosby TN Hotels
17 miles east


Seymour TN Hotels
17 miles NW


Kodak TN Hotels
20 miles north


Cherokee NC Hotels
20 miles SE


Bryson City NC Hotels
21 miles south


Whittier NC Hotels
21 miles SE


HotelGuides.com